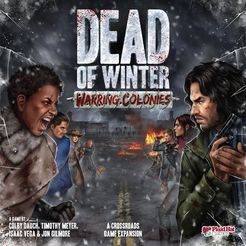 Dead of Winter Warring Colonies Expansion
The Dead of Winter: Warring Colonies expansion includes 15 new survivors, 50 new crossroad cards, 43 new items, and 11 new crisis cards, many of which can be used with either Dead of Winter base set. However, to play either the warring colonies variant or the lone wolf module, you need both Dead of Winter: A Crossroads Game and Dead of Winter: The Long Night.
In the warring colonies variant, which is for 4-11 players, unique main objectives set two colonies against each other as they battle for territory with a new fighting system that includes tactics cards, bullet tokens, and 12-sided combat dice. New and terrible joint-colony crisis cards force cooperation and coercion every round. New simultaneous turn mechanisms and a sand timer keep things moving at a brisk pace.
With the lone wolf module, which can be used with the warring colonies variant or on its own, one player is on a team all by themselves, hiding out in their lone wolf den and carrying out missions that effect both teams.
Part of the Dead of Winter series.
---
We Also Recommend