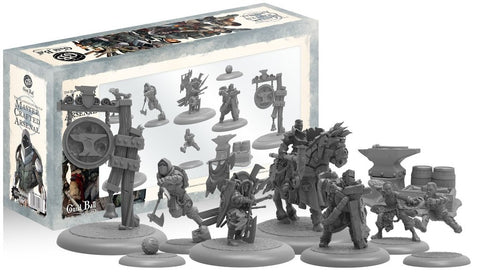 The Blacksmiths Guild: Master Crafted Arsenal
"Hearth is the heart of her Guild, proud, resilient, and with one of the sharpest minds you'll ever see. Save yourself the worry and don't cross her, not in this lifetime or the next."
— Tapper, Brewer's Guild
Hearth is a Master Blacksmith who brings her unparalleled expertise to the pitch, and dominates through sheer force of will. If her teammates don't have the right tool for the job, Hearth's experienced eye will pick out the weapon they need, or point out the weak point in an enemy's armour.  
Hearth's words carry the weight of years, and spell disaster for the opposition at every turn. Masters of the unexpected, Hearth's team are far more unorthodox than any opponent would guess. Capable of sudden bursts of speed, breaking through the toughest defences, or shrugging off crippling injuries in a wash of flame – their opponents will have a tough time disarming this master crafted arsenal.
Forged in the fires of victory, this set includes: a ball, 6 player cards, bases, 3D terrain piece, goalpost and 6 players: Hearth, Alloy, Farris, Bolt, Burnish, Cast.
Warning, not a toy! Not for use by children under three years old. Miniatures supplied unassembled and unpainted.
---
We Also Recommend