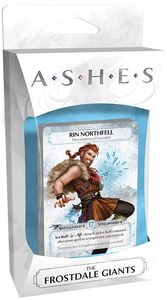 The Frostdale Giants Expansion
Rin Northfell is a jovial Phoenixborn whose lust for life and battle flares up like a beacon in his frigid homeland. Rin shuns the subtlety of complex magic, preferring spells and monsters as robust and as considerable as his spirit.
Ashes: The Frostdale Giants, which features new Phoenixborn Rin Northfell, is a full, ready-to-play Ashes expansion deck that includes two new conjurations and a new conjured alteration spell.
Rin requires 10 Natural (blue) dice to play, which are included in the Ashes: Rise of the Phoenixbornbase set.
Set Contents:
1 Rin Northfell - Phoenixborn
3 Frost Fang - Ally
3 Rin's Fury - Action Spell
3 Deep Freeze - Alteration Spell
3 Frozen Crown - Alteration Spell
3 Crystal Shield - Alteration Spell
3 Summon Frostback Bear - Ready Spell
3 Summon Ice Golem - Ready Spell
3 Ice Trap - Reaction Spell
3 Frost Bite - Ready Spell
3 Freezing Blast - Action Spell
5 Ice Buff - Conjured Alteration
3 Ice Golem - Conjuration
4 Frostback Bear - Conjuration
---
We Also Recommend