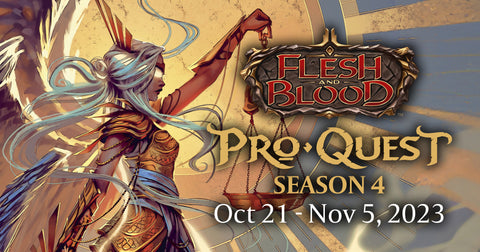 Excelsior Flesh & Blood ProQuest Season 4 Classic Constructed 28/10/23
Join us for your chance to prove your worth and take home some mighty prizes in Flesh and Bloods ProQuest Season 4! 
The format for the event is Classic Constructed. The event will be rounds of swiss followed by a Top 8 Cut. 
Registration will be from 9:30am - 10:00am, with round 1 beginning as soon as registration is complete. There will be a short break in the middle of the day for lunch. 
Deckllist submissions are required prior to the event. Please submit all decklists to us via email [excelsiorcomicsbristol@gmail.com] with the subject FAB ProQuest Season 4 Decklist *your name here*
Prize pool will be dependent on number of entrants, but will include spot prizing on the day along with
1 Random Drop Gol Cold Foil Card
1 Pro Tour 4 Invitation
8 Cold Foil Hero Promo Cards
2 Alluring Inducement Playmats
REFUND POLICY: Please be aware that we will only refund tickets if requests are made more than 7 days prior to the event.
---
We Also Recommend