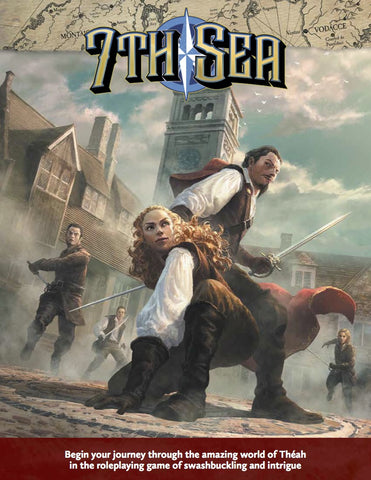 7th Sea: Second Edition
7th Sea is a tabletop roleplaying game of swashbuckling and intrigue, exploration and adventure, taking place on the continent of Théah, a land of magic and mystery inspired by our own Europe. Players take the roles of heroes thrown into global conspiracies and sinister plots, exploring ancient ruins of a race long vanished and protecting the rightful kings and queens of Théah from murderous villains.
As a 7th Sea Hero, you might...
… save the Queen of Avalon from treacherous blackmail!
… thwart a dastardly assassination attempt on the Cardinal of Castille!
… raid the villainous fleets of Vodacce merchant-princes!
… free the Prince of the Sarmatian Commonwealth from a mysterious curse!
… make decisions that alter the very course of Théan history!
In most roleplaying games, you start off as a 1st-level loser who's terrified of the goblin with a broken knife. In 7th Sea, you are a Hero, an icon of Théah ready to live and die for causes that matter. You can take on ten thugs with swords, knives, and guns all on your own. You don't start off digging through old dungeons hoping to find a copper piece or two. No! You are trusted knight, a loyal bodyguard, or even… an adventuring queen herself. Right from minute one.
In other words… you're d'Artagnan, Milady de Winter, the Dread Pirate Roberts, Jack Sparrow, Julie d'Aubigney, and the Scarlet Pimpernel all rolled up in one!
This is a game of high adventure, mystery, and action.
This is a game of intrigue and romance.
This is 7th Sea.
Fans of the old game will be glad to hear we still have the classic five Traits — Brawn, Finesse, Resolve, Wits, and Panache — as well as Skills to describe your character's training and experience. However, instead of Roll and Keep your Trait, it's now Roll and Keep Everything. That's right, you keep all your dice and use them to resolve risky and dangerous actions.
After you roll, you take your dice and make sets of 10. Each set is a Raise. You can use Raises to accomplish goals, overcome obstacles, and dodge consequences. In other words, Raises make your character awesome. And as a 7th Sea Hero… you'll have lots of Raises.
We've streamlined the rest of the system as well, making it faster, more dramatic and easier to learn. We made dueling possible for everyone, not just swordsmen: if you can pick up a sword, you can get yourself into a duel. Everything about the new system is designed to get you into the action!
---
We Also Recommend